New copy editor works for introverted solopreneurs
This week, the new copy editor saw the light of day. Introverted people will love to use it for their marketing copy.
Published:
---
Hey all,
this is Matthias again with a (not so quick) status update about 2Quiet2Market, the new marketing software for introverts like solopreneurs, writers, musicians, and so on.
What happened
On September 9, I registered the Internet domain, so my project is now exactly one month old. Yay! This is what I did since then:
Created a landing page in Carrd that connects to an email list in ConvertKit
Filmed and produced the demo video
Developed a graphical editor that introverts will use to break down the huge marketing task into manageable pieces
Introduced projects and boards that help you organize your marketing efforts
Added sign up and login with Twitter
And this is new from last week: The copywriting editor
Last Week's Progress
A marketing project consists of boards that contain diagrams (see the demo video to know how the marketing diagrams work)
Each diagram shows a marketing plan, i.e. the way from your product (via its features, qualities and benefits) towards the story you want to tell to your future customers.
The new feature that I built this week is a copy-text editor. Each element in the marketing plan can now carry copy. Examples:
a feature can have copy that says what it does
a quality can have copy that says what your product feels like to your users
a benefit can have copy that says why a feature or a quality make your product so valuable to your user/customer
Today's UI looks like below: On the marketing board, you see your orange product that has a brown feature, a blue job-to-be-done, and a green quality (you will want to give them concrete names, of course).
The feature and the quality have benefits (shown in teal). Finally the purple story follows the job and the benefits, and I assume you will tell it to the red customer: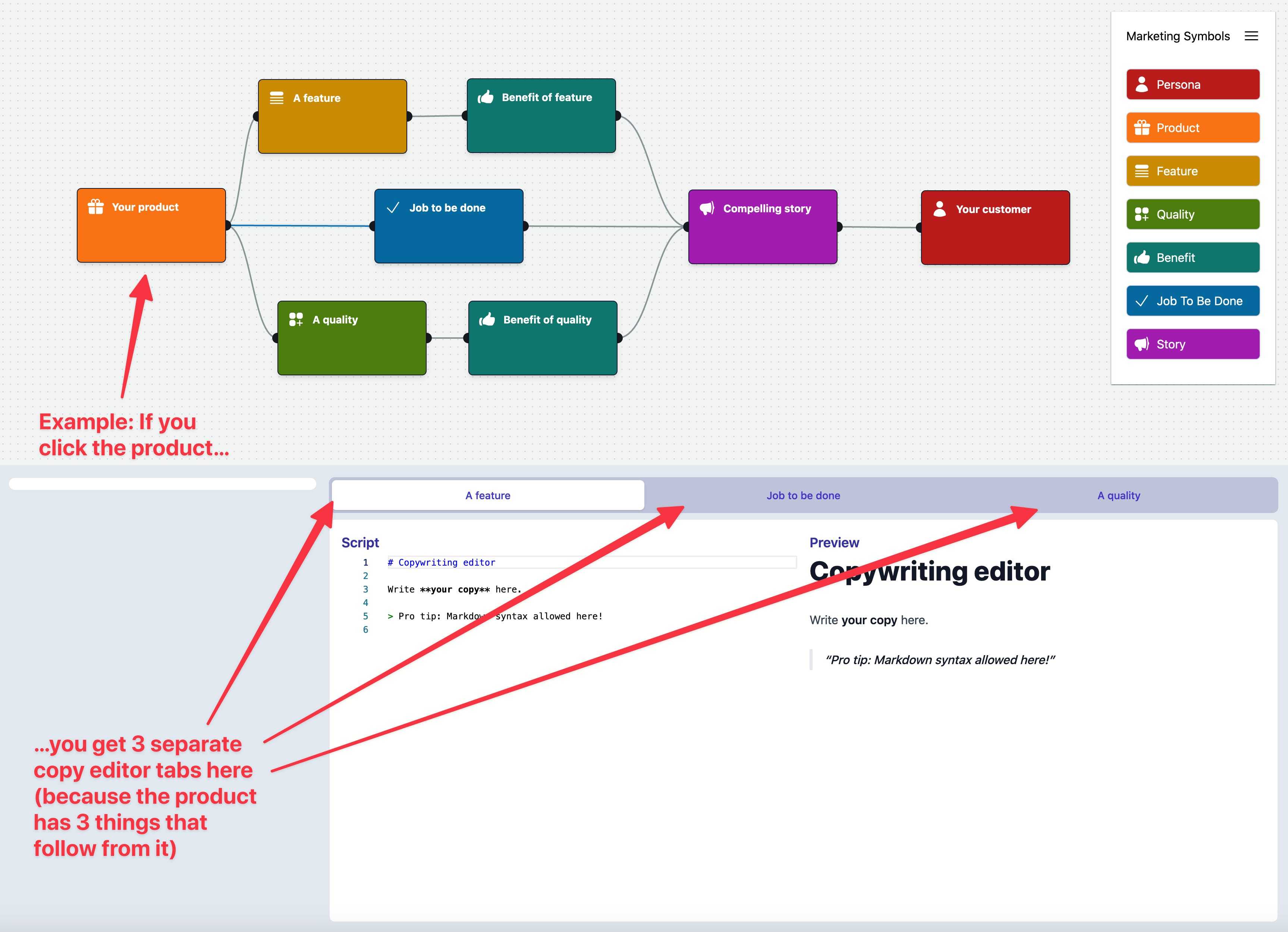 When you click on the orange product on the left side, you get three copy editor tabs: one for the feature, one for the job to be done, one for the quality. You can write copy that talks about your product from three different perspectives. You write your copy in Markdown, and you get a live preview of the fully formatted text on the right.
What happens to the copy you write? Now comes the exciting part:
Upcoming Feature (next 10 days or so)
The next feature that I want to build are merge tags. With those merge tags, every piece of marketing copy can include existing copy from earlier parts of the marketing plan diagram. Examples:
a feature can include copy attached to a product
a benefit can include copy that is attached to a feature
a story can include copy from different sources (features, benefits, jobs to be done, etc.) to form a coherent narrative that makes the product look awesome to customers
You see? You only write short pieces of copy, very focused on one thing at a time, and 2Q2M will pull all those pieces together to form a really good story, to spark joy and interest in your users and customers.
(By the way: I got feedback from y'all that suggests to add an AI writing assistant to help you craft the narrative. Spoiler alert: Yep, I'm planning to do this in December!)
Goal for the November Release
The goal for the first release is that an introvert marketer like you can do the following things:
sign up and log in
create a project with a board
"position" your product or service, i.e. create a context for it that makes it appear totally awesome and desirable for your customers
generate enough copy to put it on a landing page, into a blog post, or a Twitter thread
In the meantime, 2Q2M has been working so well that I'm pretty sure I can release it in November!
Please help me and share this with your friends
👉 To do more, I need your support. Please share the news about this project with a few friends! Forward this email to them, and Invite them to join the early adopter waitlist, too. They can sign up at 2quiet2market.com.
This is such an exciting journey. I am so curious what you'll have to say when it's live!
Have a good time, stay healthy...
Matthias